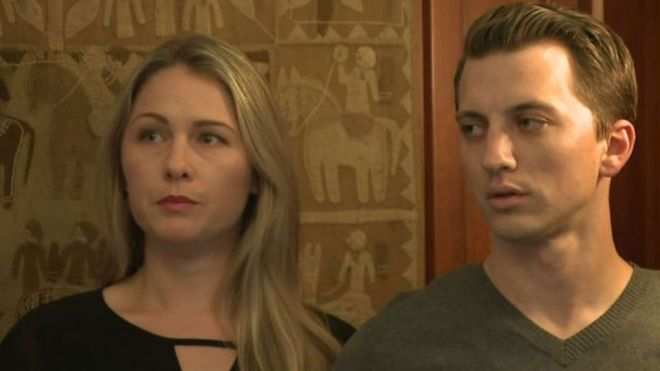 A US couple wrongly accused of staging a real kidnapping have reached a $2.5m (£1.8m) defamation settlement with the city of Vallejo in California.
Denise Huskins was taken from a home she shared with boyfriend Aaron Quinn by a masked intruder in 2015.
After she was found safe 400 miles away, a police spokesperson described the investigation a "wild goose chase" and the abduction a "hoax".
Matthew Muller, a former lawyer, was convicted in 2017 for the kidnapping.
The police eventually apologised but the couple's lawsuit accused the city and two police officers of defamation and inflicting emotional distress, US media report.
The couple's lawyer said in a statement: "One can only hope that the message of this settlement will be that victims are to be believed and that the police will accept a woman's highly credible report that she was kidnapped and raped."
The City of Vallejo admitted no wrongdoing in the settlement.
After police did not believe Mr Quinn's story of his then girlfriend's abduction, the case drew comparison to the film Gone Girl, in which a woman goes missing in mysterious circumstances and her partner is placed under suspicion.
Muller, who also served as a US marine, suffers from Gulf War Syndrome and is bipolar. He was arrested six months after the kidnapping for another home invasion, leading the federal investigators to identify him in this case.
He is serving a 40-year sentence for drugging the couple in their home near San Francisco and kidnapping Ms Huskins for a ransom of $8,500, according to the SF Gate news website.
She was released in Huntington Beach, south of Los Angeles, after two days, but no ransom was paid.
According to media reports, Muller even came to the defence of the victim when police first discredited the couple's claims, writing emails to local journalists describing what he had done.
Ms Huskins and Mr Quinn, both 32, have since got engaged and plan to get married in September.