Free-to-play mobile video games are just that, free to play, but they are also some of the most profitable apps for developers, and looking at the case of Daigo, a 31-year-old gamer from Japan who has spent over $70,000 on his favorite video game, it's easy to see why.
Like many other free-to-play games, Sony Corp.'s 'Fate/Grand Order' is  completely free to download and play. So how did it manage to bring in an estimated revenue of over $1 billion in the fiscal year ending this month? Well, it's thanks to dedicated players like Daigo, a 31-year-old gamer from Japan, who prefer to spend real money to improve their video game characters and progress faster. He estimates that he has so far spent over $70,000 on his hobby.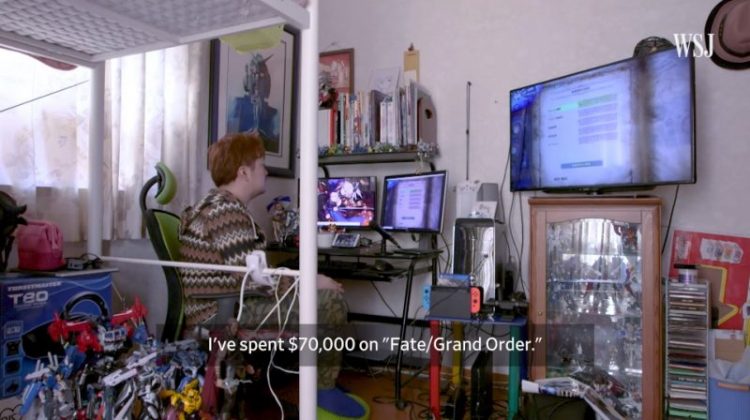 "Hobby" may not be the right word to describe what Fate/Grand Order is to Daigo, considering that he only stops playing it when he is sleeping, driving or taking a bath. It sounds more like an obsession, but one that he's more than happy to pour money into as long as it keeps him entertained.
"Some people spend $18 on a movie and feel moved. I've spent $70,000 on 'Fate/Grand Order.' But it moves me," Daigo recently told the Wall Street Journal. "When we played the first chapter, many of us were moved to tears. The story zooms into each character. It makes you feel something for them. You want what you love, right?"
So how does someone end up paying such ridiculous amounts of money on a free-to-play mobile game? Well, Fate/Grand Order allows players to summon new "servants" by spending in-game currency called Quartz. But there's only so much virtual money you can earn performing missions in the game, so if you really want to speed up your progress, you can opt to spend real money instead.
Daigo recalls spending $500 to get a character he really wanted in his collection, and then an extra $2,500 leveling it up to make it stronger.
Asked how he was able to afford paying so much money on a video game, the 31-year-old man, who still lives with his parents, said that he had saved some money he earned from investing in stocks and futures. Still, he admits that his parents don't know how much he has actually spent.
"They don't know how much I've spent on the game. I think it's fine as long as I'm having fun," he told WSJ.
Source: odditycentral.com