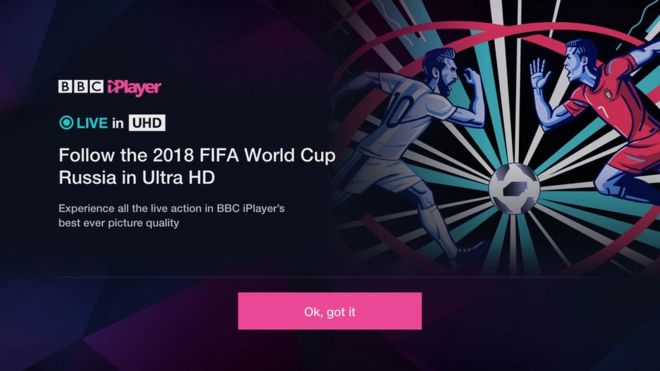 The BBC is to stream dozens of World Cup matches live in 4K resolution and high dynamic range colour (HDR) to UK-based audiences in June and July.
It will mark the first time iPlayer has covered one of the major sporting events in such quality.
However, it will limit the number of screens with access, and will do so on a first-come first-served basis.
The BBC also plans a separate virtual reality experience. One expert said the news had been highly anticipated.
"There had been a couple of earlier trials that had not been highly publicised, but now everyone who has compatible equipment should be able to see some of the best picture quality made available via a terrestrial broadcast," commented Andy Madden, content editor at What Hi-Fi? magazine.
"They should see a marked improvement in detail and a brighter, punchier picture than they had previously."
Brighter, sharper
The term 4K – which is sometimes referred to as being ultra-high definition (UHD) – refers to the fact that an image contains four times as many pixels as a 1080p high definition picture.
This can reveal details that would otherwise be obscure – including the notes written on a yellow or red card, or the time on a referee's watch.
Many people, however, have found that it is HDR that provides the biggest "wow factor".
The technology takes advantage of the fact modern TVs can go brighter and/or darker than they used to, providing a greater dynamic range.
As result, the shadows of an image can be made less murky while the highlights – including glints of light reflected off metal or water – can be given more impact.
BT began screening live sport in 4K in 2015, and Sky followed a year later, but neither do so in HDR.
The BBC is able to, thanks to the development of a new type of HDR called hybrid-log gamma (HLG), which has been created in conjunction with the Japanese broadcaster NHK.
As an added benefit, footage will be played at 50 frames per second rather than the normal 25fps.
Restricted view
All 29 of BBC One's World Cup matches are scheduled to be made available in 4K and HDR.
But each will be limited to "tens of thousands of people" – the exact number of iPlayer-equipped devices has not been specified in advance.
To gain access, viewers must be among the first to click on the relevant home screen button just after each stream starts.
To enjoy the optimum experience, the BBC says audiences will need a 40 megabit per second (Mbit/s) internet connection – which is faster than that to which most households have access.
Those with slower download speeds may find they are provided a lower-resolution image.
BBC engineers first trialled the tech involved in public in April, when they streamed a rugby league match between York City Knights and Catalans Dragons.
More recently, they streamed the second half of the FA Cup final between Chelsea and Manchester United.
However, neither event was publicised in advance, so attracted a much smaller audience than the forthcoming competition in Russia should deliver.
Virtual spectators
In addition, the BBC plans to offer live virtual reality views of 33 games via a dedicated app, that will take account of the viewers' head movements.
It will be made available closer to the time on iOS and Android devices, as well as the Gear VR, Oculus Go and PlayStation VR headsets.
It will allow users to switch location to get the view from a "luxury private box" on high or from behind either of the two goals.
While many experts see 4K and HDR as a natural evolution of today's normal broadcasts, there are doubts as to whether VR will become mainstream in the same way.
Sales of dedicated headsets have been weaker than originally forecast and compelling content has been limited – often because of the added cost involved in creating it.
If done well, live sports coverage could help drive demand, but the risk is that it feels like a gimmick.
"Virtual reality is still in its infancy and has still to catch on with the masses," commented Mr Madden.
"But it's an interesting way for people to see the World Cup."