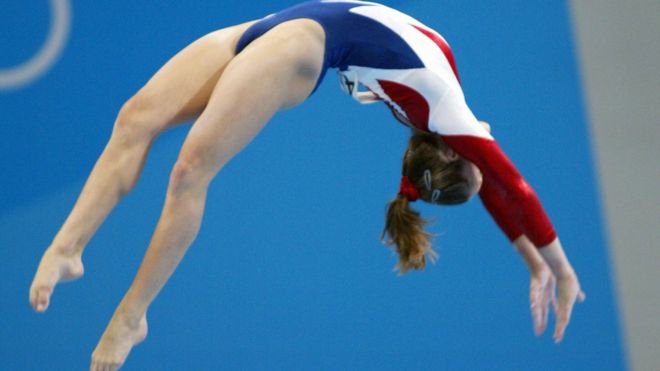 The US Olympic Committee (USOC) has ordered the entire USA Gymnastics (USAG) board to resign by 31 January or lose status as a sports governing body.
USOC outlined steps the board must take after ex-USA Gymnastics doctor Larry Nassar was sentenced to 40 to 175 years for sexually abusing young athletes.
Five directors of the 18-member board have already resigned amid the fallout.
Two Michigan State University (MSU) officials have also quit after the school became embroiled in the scandal.
Michigan State athletic director Mark Hollis stepped down on Friday following reports that the school knew of the abuse claims but failed to take action.
He said he was "brought to tears" as he listened to Nassar's victims during his sentencing on Tuesday.
"My heart breaks thinking about the incomprehensible pain all of them and their families have experienced," he said in a statement.
USAG has admitted dragging its feet on alerting the authorities when it learned of abuse allegations against Nassar in 2015.
Multiple molestation complaints from young athletes against the physician between 1997 and 2014 were ignored by MSU.
USOC CEO Scott Blackmun wrote in a letter on Thursday that USAG board directors had six days to resign and until 28 February to replace them with an interim panel.
"While the USOC encourages USAG to think and act broadly on reforming its culture, we also believe that reform must start with an entirely new board," Mr Blackmun wrote.
Nassar, 54, worked at MSU between 1997 and 2016 and served as national medical co-ordinator for USAG from 1996 to 2014. Nearly 160 women have accused him of sexual abuse.
He outlined six steps the sports body must take, including:
Replace interim board members in the next 12 months
USAG must co-operate with "an independent investigation" looking into whether the anyone knew of and ignored the abuse allegations against Nassar
The board "must substantially discuss" plans for combating abuse
In a statement on Thursday night, USAG said it "completely embraces the requirements outlined" in the letter and "appreciates the opportunity to work with the USOC to accomplish change".
Michael Burns, the head men's gymnastics coach at the University of Minnesota, became at least the fifth member to resign from USAG's board on Friday.