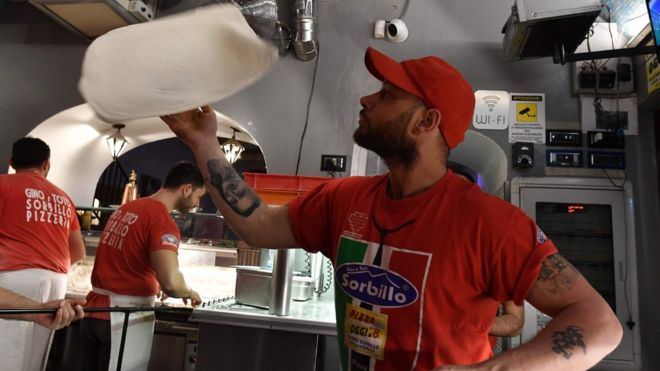 Pizza has conquered the world, but the art of "pizzaiuolo" – twirling the dough and baking it in a wood-fired brick oven – is less well known outside the Italian city of Naples.
That could now change after the UN's cultural body gave it world heritage status, which aims to raise awareness of traditions around the world.
Pizzaiuolo has been handed down for generations, Unesco said, and encompasses the social ritual of songs, stories and gestures that takes place between pizza makers and diners in working class Neapolitan neighbourhoods.
Italy had argued that the practice was part of a unique cultural and gastronomic tradition.
"Another step towards the protection of Italy's food and wine heritage."
Pizza-makers in Naples celebrated by handing out free pizza on the streets. Two million people had signed a petition to support pizzaiuolo's application, the Association of Neapolitan Pizzaiuoli's head Sergio Miccu said.
"After 250 years of waiting, pizza is humanity's heritage, its intangible heritage. Congratulations to Naples, congratulations!" pizza-maker Enzo Coccia told the BBC.