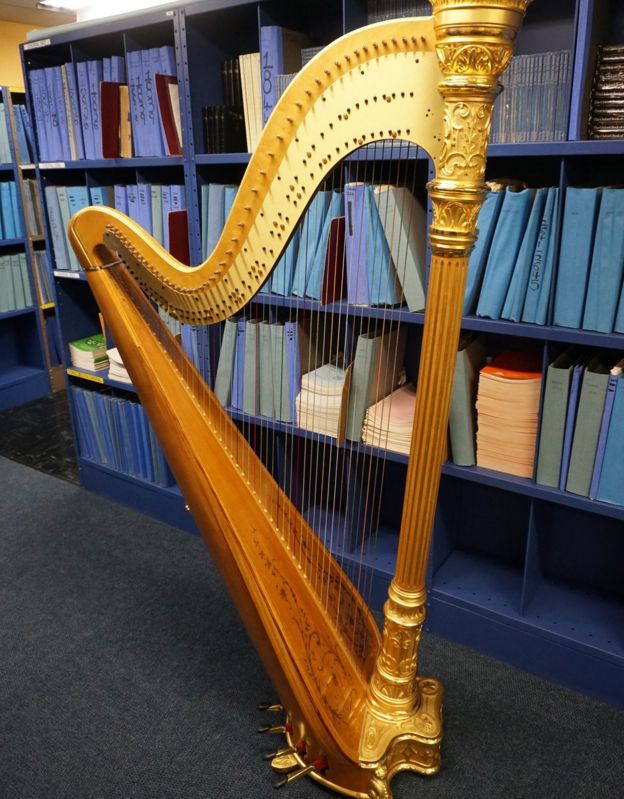 In 1962 Igor Stravinsky, the Russian-born composer and conductor, went to South Africa to conduct the state broadcaster SABC Symphony Orchestra in a series of concerts. It was the height of apartheid – and the regime believed classical music was the domain of white people. The BBC's Sophie Ribstein takes a walk down memory lane to see if a certain imposing harp was used in the concert.This exceptional instrument once shone from the grandest stages in the country.
The principal harpist of the SABC orchestra would play it at classical music concerts – that, in those days, only white people were allowed to attend.
South Africa's state broadcaster – I could have been stepping into the 1970s, when the apartheid regime occupied the building and the airwaves.
SABC was once the core of the racist state's propaganda machine.
Now, the majestic harp was standing silent, under a dust cover in the corner of a room that also belonged to the past.
When apartheid ended in the early 1990s, the SABC's "white" orchestra was disbanded, and its remains were left in the library.
Alongside the instruments, were hundreds and thousands of music scores,  Igor Stravinsky the famous Russian composer decided to come here? The year was 1962 and the country was in turmoil because of the repressive segregationist regime,many of them hand-written, among other relics from that time.
Stravinsky had been invited to conduct the SABC orchestra, but what was remarkable about his tour, is that he had insisted on also performing for a black audience – and the authorities allowed him to, in KwaThema, a township 40km (25 miles) outside Johannesburg.
"I just want to perform for human beings," the composer had explained.
I wanted to know what Stravinsky's black audience made of it all. How had they even heard of him, at a time when the government considered classical music the domain of white people only?