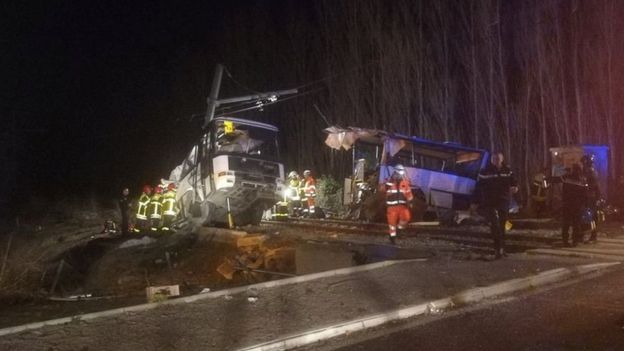 A train and a school bus have collided near Perpignan in southern France, leaving at least four children dead and many other people injured.
Twenty people were injured and 11 of them were in a critical condition, after the crash on a level crossing between Millas and Saint-Féliu-d'Amont.
The bus had picked up pupils, aged between 13 and 17, from a nearby secondary school before it was hit.
Pictures from the scene showed the bus split in two by the force of the crash.
Train operator SNCF said witnesses had reported seeing the barriers at the level crossing down at the time of the collision, although that was not confirmed.
The bus, which had left the Christian Bourquin College in Millas, was on the crossing when it was hit by the train, which was travelling from Perpignan at around 80km/h (50mph). Visibility was described as good.Investigators are waiting to interview the woman driver of the bus who was slightly injured in the crash. Both drivers escaped serious injury.Around 70 emergency workers and four helicopters were deployed as part of the rescue effort.
A statement from the education minister's office said he would visit "to support students, families, teachers and the entire educational community".
In a tweet, French President Emmanuel Macron offered his condolences: "All my thoughts for the victims of this terrible accident involving a school bus, as well as their families. The state is fully mobilised to help them."