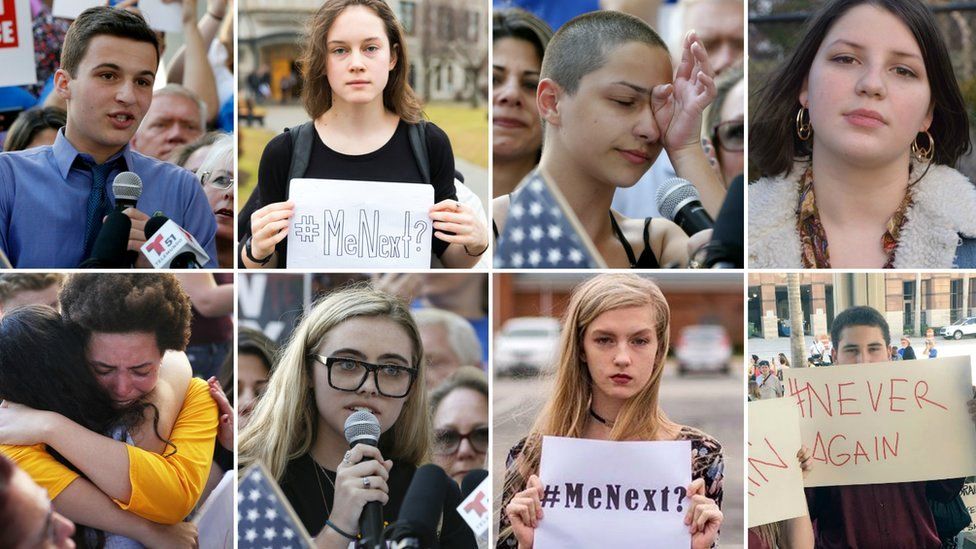 Young survivors of Wednesday's school shooting in Florida have announced a national march on Washington to demand political action on gun control.
Student organisers told US media that they were determined to make Wednesday's shooting a turning point in the national gun debate.
The attack, which left 17 students and staff members dead, was the deadliest US school shooting since 2012.
Yesterday protestors chanted "shame on you" to US lawmakers and the president.
Mr Trump said last year he would "never" infringe on the right to keep arms – a long-running and contested debate within the US.
In his first public comments on the gun control issue since the attack, Mr Trump blamed the Democrats for not passing legislation when they controlled Congress during the early years of Barack Obama's administration.
He also rebuked the FBI for missing signals before Wednesday's school shooting, after the organisation admitted it had failed to act on a tip-off about the suspected shooter Nikolas Cruz.
The students of Marjory Stoneman Douglas High School were well practised on how to respond in an active shooter situation – the school has lockdown drills, security systems and restricted entrances. But a sole gunman on Valentine's Day was still able to kill 17.
From the school's survivors, and other students across the US, movements have sprung up in its aftermath rejecting what has been dubbed the "new normal" for their generation. Thousands of teenagers, including many still too young to vote, have become grassroots activists. Social media has become a tool for their ideas and campaigns to spread.
Their calls for gun control are not different to those in the aftermath of other tragedies – but the maturity and voracity of the students publically voicing their demands has led many on social media to say this time feels different.