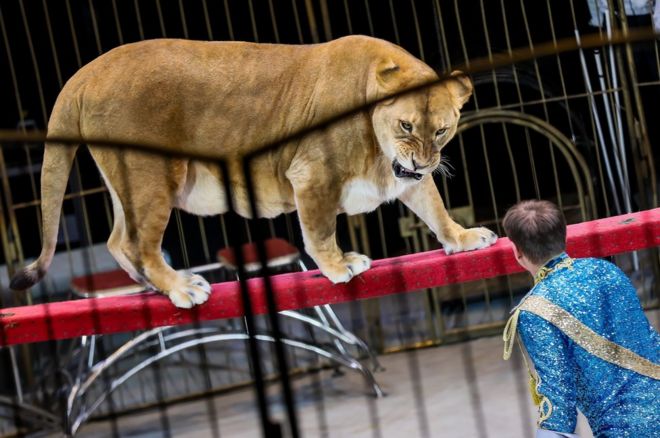 "Greedy" fat cats at a Russian institution have caused a stir on social media, after incriminating pictures emerged online.
But in the lionesses' defence, the row isn't really their fault.
These portly performers belong to the Vladivostok State Circus, and their appearance has raised concern in Russia and overseas.
Trainer Vitaly Smolyanets has insisted the animals "feel excellent" and are not obese.
But critics claim their size amounts to animal cruelty.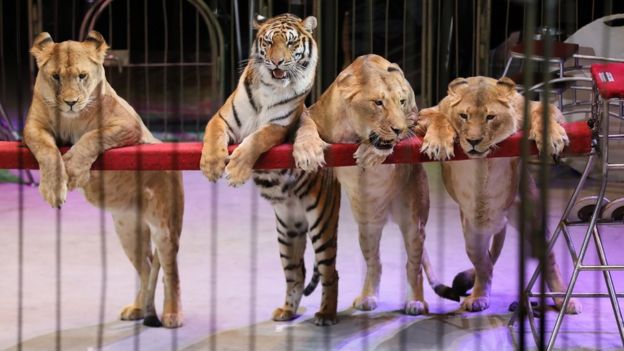 "They need the gym" one online observer commented. "It might be better to show them to a vet, not circus visitors," observed another.
Mr Smolyanets, a renowned big cat whisperer, says he has never been subject to this sort of criticism in a 20-year career.
"Our animals are old," the Siberian Times quoted him as saying. "People put on weight as they get old, the same with animals.
"They gave birth, and afterwards they put on weight [too].
"We look after their health. They feel excellent, I don't see obesity."
He claimed the animals only eat once a day, in the evening, with an extra snack if they have a performance.
Their daily intake is six kilograms of meat a day, which their handler says is a normal ration. He also gives them vitamins and a litre of milk.
The big cats perform in a show called "The Empire of Lionesses" which showcases their agility and obedience.
The chubby lionesses aren't the first big cats to make headlines with their waistlines.
In 2015, a jaguar on a breeding loan to Delhi Zoo was sent back because he was too fat to mate.