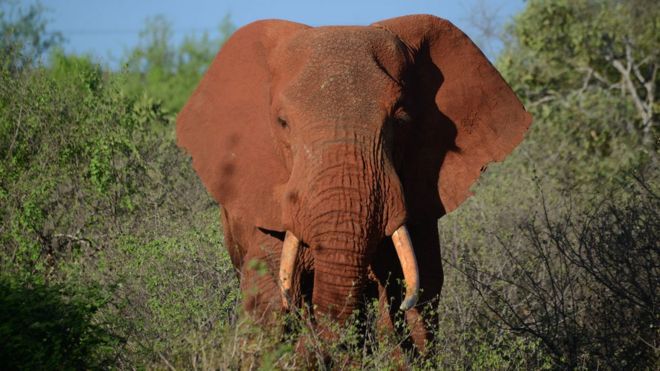 China has long been one of the world's biggest markets for ivory, but as of 2018 all trade in ivory and ivory products in the country is illegal.
The move is being hailed as a major development in efforts to protect the world's elephant population.
Wildlife campaigners believe 30,000 African elephants are killed by poachers every year.
State media said there had already been a 65% decline in the price of raw ivory over the past year.
There had also been an 80% decline in seizures of ivory entering China, said Xinhua.
The ban was announced last year and came into effect on Sunday, the last day of 2017.
Sixty-seven official factories and shops dealing in ivory had already been closed by March 2017, said Xinhua, and the remaining 105 were to have shut down by Sunday.
"From now on, if a merchant tells you 'this is a state-approved ivory dealer'… he is duping you and knowingly violating the law," the forestry ministry said on its Weibo microblog.
Xinhua said "one of the largest ever public awareness campaigns" had been carried out in the run-up to the ban, with support from celebrities including superstar basketball player Yao Ming."This is a significant step that should prove to be a huge boost to elephant protection efforts in Africa," said WWF's Africa director Fred Kumah in a blog post.
However, there is concern that Hong Kong is not covered by the new laws. It is a major ivory trading hub, with most customers believed to be mainland Chinese.
The territory is in the process of bringing in its own total ban.
China had already banned sales of ivory acquired after 1975, under the Convention on International Trade in Endangered Species of Wild Fauna and Flora (CITES).
But critics have long said allowing other ivory products to be sold openly drives up demand for the status symbol and allows illegal trade to flourish.
The international trade in ivory was banned in 1990.