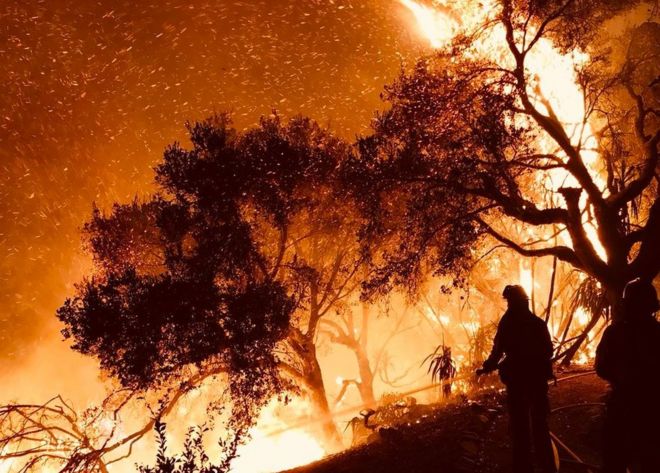 Fresh evacuations have been ordered after the largest of the wildfires raging in southern California burned out of control on Sunday.
Fanned by winds, the resurgent Thomas fire now threatens the coastal city of Santa Barbara and nearby Carpinteria.
Firefighters earlier reported progress in containing the blaze, said to have devastated an area the size of Chicago.
But while other fires hitting the state are largely controlled, the Thomas fire is just 15% contained.
Evacuation orders were issued overnight for parts of Carpinteria close to Los Padres National Forest, about 100 miles (160km) northwest of Los Angeles.
Forecasters said wind speeds were expected to increase throughout the day, before dying down again overnight.
The local fire department tweeted pictures of a wall of flames advancing on homes on the outskirts of Carpinteria early on Sunday morning.
Meanwhile, actor Rob Lowe, who lives in Santa Barbara, a city of close to 100,000 people, tweeted that he was praying for his town as fires closed in.
"Firefighters making brave stands. Could go either way. Packing to evacuate now," Lowe added.California has spent the past seven days battling wildfires. Six large blazes, and other smaller ones, erupted on Monday night in southern California.The authorities issued a purple alert – the highest level warning – amid what it called "extremely critical fire weather", while US President Donald Trump declared a state of emergency.
The current fires have forced the evacuation of some 200,000 people across the state, and seen more than 800 structures destroyed.
Several firefighters have been injured, but only one person has died – a 70-year-old woman who was found dead in her car on an evacuation route.
There are also fears the blaze will seriously hit California's multi-million dollar agricultural industry.