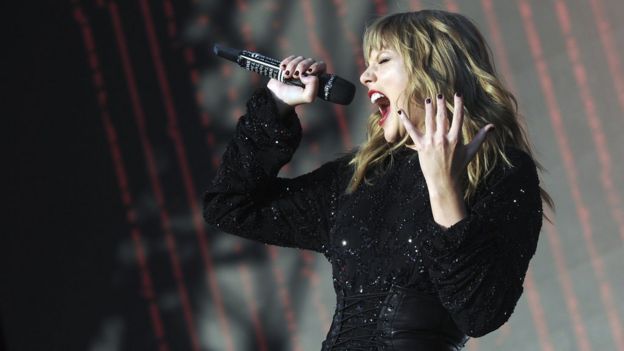 Taylor Swift stayed true to her name, playing a brief, but flawless, set at the BBC's Biggest Weekend in Swansea.
Effectively a stripped-back supercut of her current world tour, the six-song performance largely focused on the star's 2017 album Reputation.
She opened with the pummelling goth-pop of Ready For It, before racing through songs like Gorgeous and Delicate.
Fans were forced to wait to the end to hear the classics Blank Space and Shake It Off – and then it was all over.
But if the 26,000-strong audience who'd crammed into Swansea's Singleton Park felt short-changed, they didn't show it, shimmying along with Swift and her tightly-drilled dancers.
"You're not just singing along but you're screaming along… which is the best," said Taylor, as she took stock of the crowd.
"It kind of took my breath away a little bit when I first came out here."
The star also worked in two plugs for her UK tour dates, as she played live on BBC TV and radio.
But if her set was ruthless in its efficiency, it was nonetheless a masterclass in pop – from Swift's effortless vocals and shape-throwing choreography to her adorkable between-song banter.
"Oh wait, this is in the wrong key!" she laughed as she fumbled the start of Delicate, sliding a capo up the neck of her guitar to find the right note.
"She was fantastic. She's amazing. She's unique," said Lauren, who was happy to see the star in her hometown.
Swift was followed by headliner, Florence + The Machine, who gave a spirited, spiritual performance, as she whirled across the stage like a barefoot shamanic warrior.
After clasping a fan's head in her hands during What Kind Of Man, she closed her set with a promise about the restorative powers of her hit single Shake It Out.
Earlier in the day, Camila Cabello – who is supporting Swift on her current world tour – gave a spectacular performance on Swansea's main stage, playing her own hits Havana and Never Be The Same alongside snippets of Prince's Purple Rain and Can't Help Falling In Love.
The 21-year-old's pin-sharp choreography and exuberant charisma made her one of the day's stand-out performers – a feat that was all the more impressive given that she was battling the heat, while jet-lagged, in a skin-tight black catsuit.
"Why did I do that?" she laughed, as she spoke to BBC News after the show.
"It was so hot up there, I thought I was going to pass out at one point but I was like, 'I'm going to give everything to Swansea. They'll have to carry me out of here!'"
The singer, who arrived in Wales on Saturday night after playing a show on Swift's world tour in Denver, said she'd been impressed by her first encounter with the country.
Other performers in Swansea on Sunday included Rita Ora, who opened the main stage with a clutch of her own hits, and a tribute to dance star Avicii, who died last month.
One Direction star Niall Horan led a mass singalong to his solo tracks Slow Hands and This Town, as well as a slowed-down reggae version of the 1D hit Drag Me Down.
Demi Lovato, Stefflon Don, Thirty Seconds To Mars and Jason Derulo also kept the crowd entertained as they waited for Swift and Florence + The Machine, who will close the event